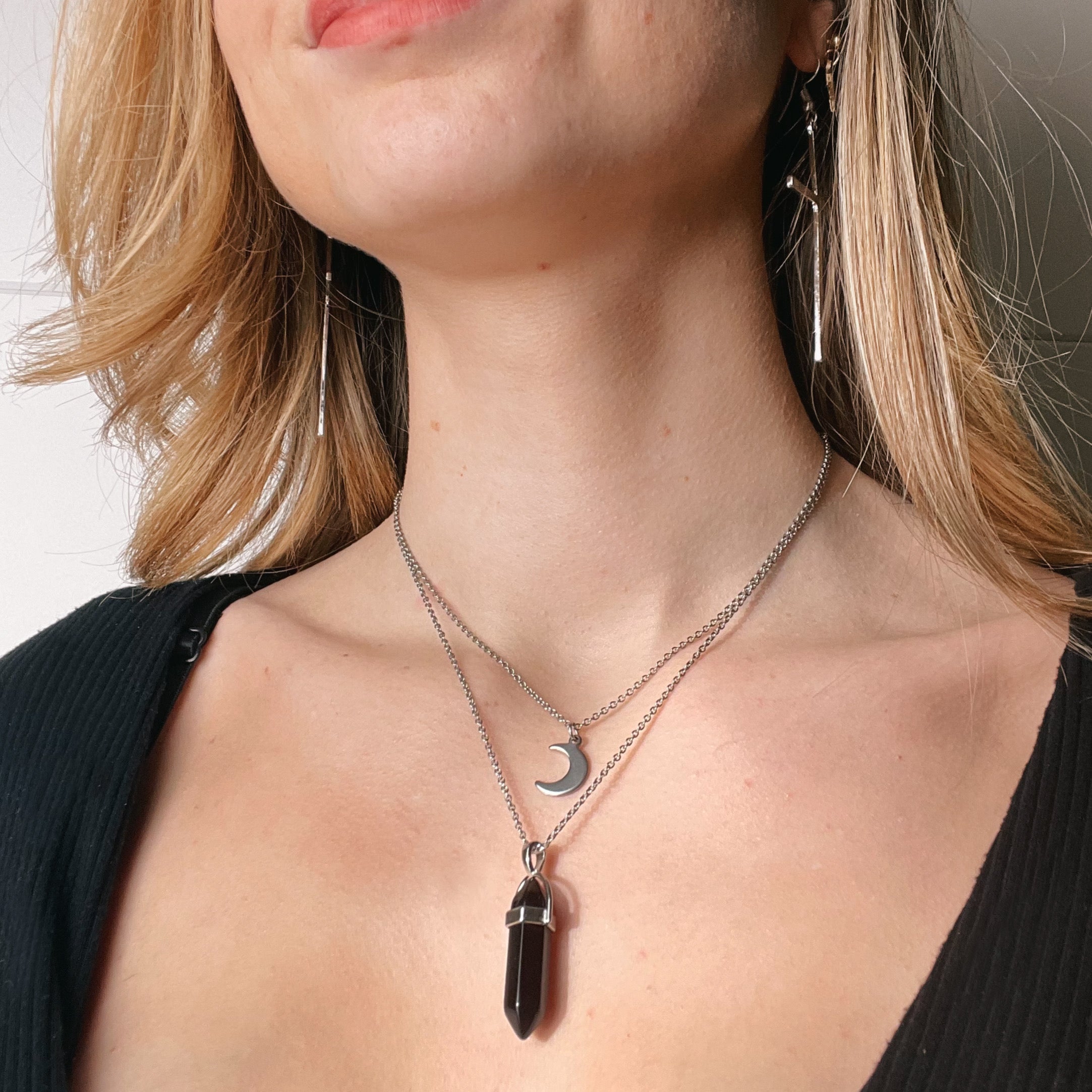 CRYSTAL: Black Agate
POWER OF THE SUPERWOMAN : Emotional strength  & Unlimited power.
This necklace is a must-have for every woman who wants to balance their emotions and expand their power, from her thoughts to the physical world
Black Agate will bring you the

 

strength to achieve anything,

 

no matter what
You won't give so much importance to other people's opinion, because you will realize that only what you want, actually matters.
This necklace helps you to get out of toxic relationships, energies or behaviour.
If you feel

 

stuck during times of stress, depression or grief, grab your necklace and feel its energy going through your body, giving you the will to overcome any obstacle in life.
Black Agate helps with overpassing traumas.
DETAILS: 1.5 inch natural stone on 17inch stainless chain.
📦  Note : All orders come with a guide explaining the power of each stone, and how to program your necklace.
Composition
✨ GENUINE CRYSTALS ONLY ✨
All our necklaces and rings are made out of genuine crystals. They are certified by a Gem Testing Center. The only stone that is man-made is Opalite.
As all our stones are natural, the color of your stone may vary a little bit from the picture, depending where your pendant was cut in the stone.
💜 HIGH QUALITY JEWELRY 💜
All chains are stainless steel and won't turn your neck green, our rings are 925 Sterling Silver and won't turn your fingers green either.
All our Elixirs and sprays are HANDMADE in the US 🇺🇸
We only have limited stock on them, so don't miss out if you see the one you want still in stock 😘
Care
Remove your necklace before taking a shower, doing sport or putting perfume, to protect its shine. You are good to go now !
Please also note that the stones are protected by a wax, to keep its shine forever 💜 
For Elixirs: keep your elixirs in your bag and carry them everywhere with you 😘
Program your crystal
✨ All our crystals work with intentions.
It's really important that you follow the instructions in the guide you will receive in your package 💜
Learn more
What babes say about The Superwoman 🔱