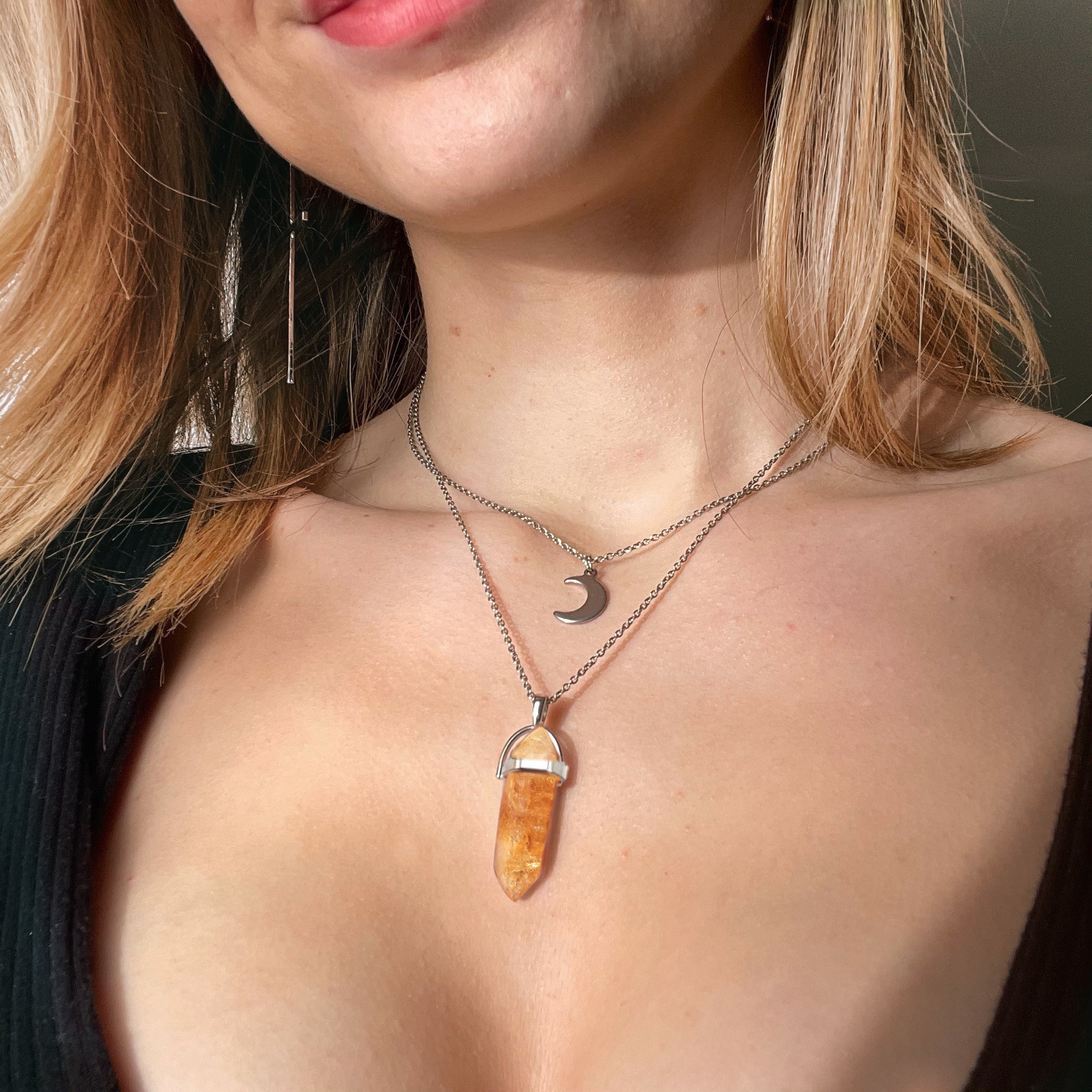 Time to bring success and joy into your life  ✨ 
CRYSTAL: Citrine
POWER OF THE BOSS B*TCH : Wealth, Success and Joy.
A must-have for any #girlboss or any woman owning a small business 
Gives you the strength and the courage to take risks, change your life, and

 

places yourself as the star of your own movie 
Gives you luck to succeed in your personal life, at work or in your business
When worn, you will discover all your hidden potentials, and attract all the opportunities you need to achieve your goals. 
Citrine brings joy into your life and removes the negativity inside of you
DETAILS: 1.5 inch Citrine on 17inch stainless chain.
What does Heat Treated Citrine mean ?
Citrine is naturally formed on Earth when natural Amethyst or Smoky Quartz is heated deep inside our planet at 900 degrees Fahrenheit. You can either purchase natural citrine, but it's rare and expensive, or lab citrine, where natural Amethyst is heated to reproduce the natural process from Earth. Both are the same. The citrine we used for this necklace has been made in lab, which is exactly the same as a natural one. Lab citrine is slightly more powerful though, as it's been created recently.
📦  Note : All orders come with a guide explaining the power of each stone, and how to program your necklace.
Composition
✨ GENUINE CRYSTALS ONLY ✨
All our necklaces and rings are made out of genuine crystals. They are certified by a Gem Testing Center. The only stone that is man-made is Opalite.
As all our stones are natural, the color of your stone may vary a little bit from the picture, depending where your pendant was cut in the stone.
💜 HIGH QUALITY JEWELRY 💜
All chains are stainless steel and won't turn your neck green, our rings are 925 Sterling Silver and won't turn your fingers green either.
All our Elixirs and sprays are HANDMADE in the US 🇺🇸
We only have limited stock on them, so don't miss out if you see the one you want still in stock 😘
Care
Remove your necklace before taking a shower, doing sport or putting perfume, to protect its shine. You are good to go now !
Please also note that the stones are protected by a wax, to keep its shine forever 💜 
For Elixirs: keep your elixirs in your bag and carry them everywhere with you 😘
Use the law of attraction with your crystals 💫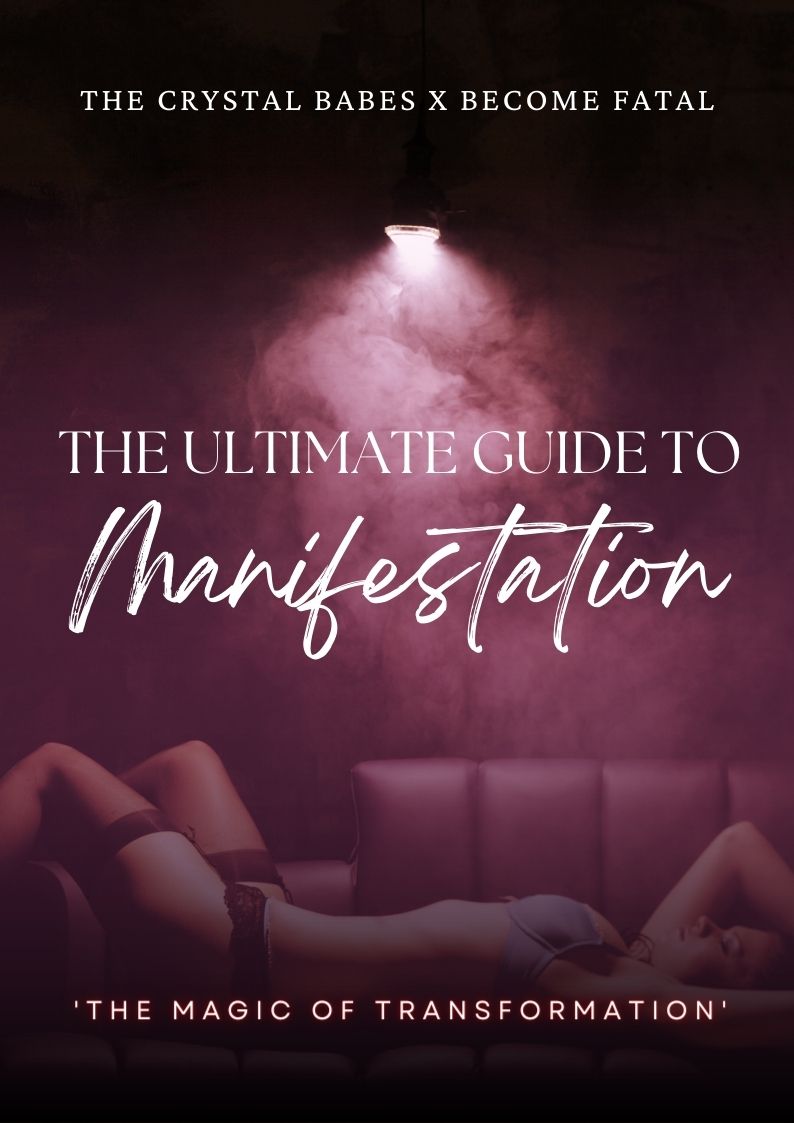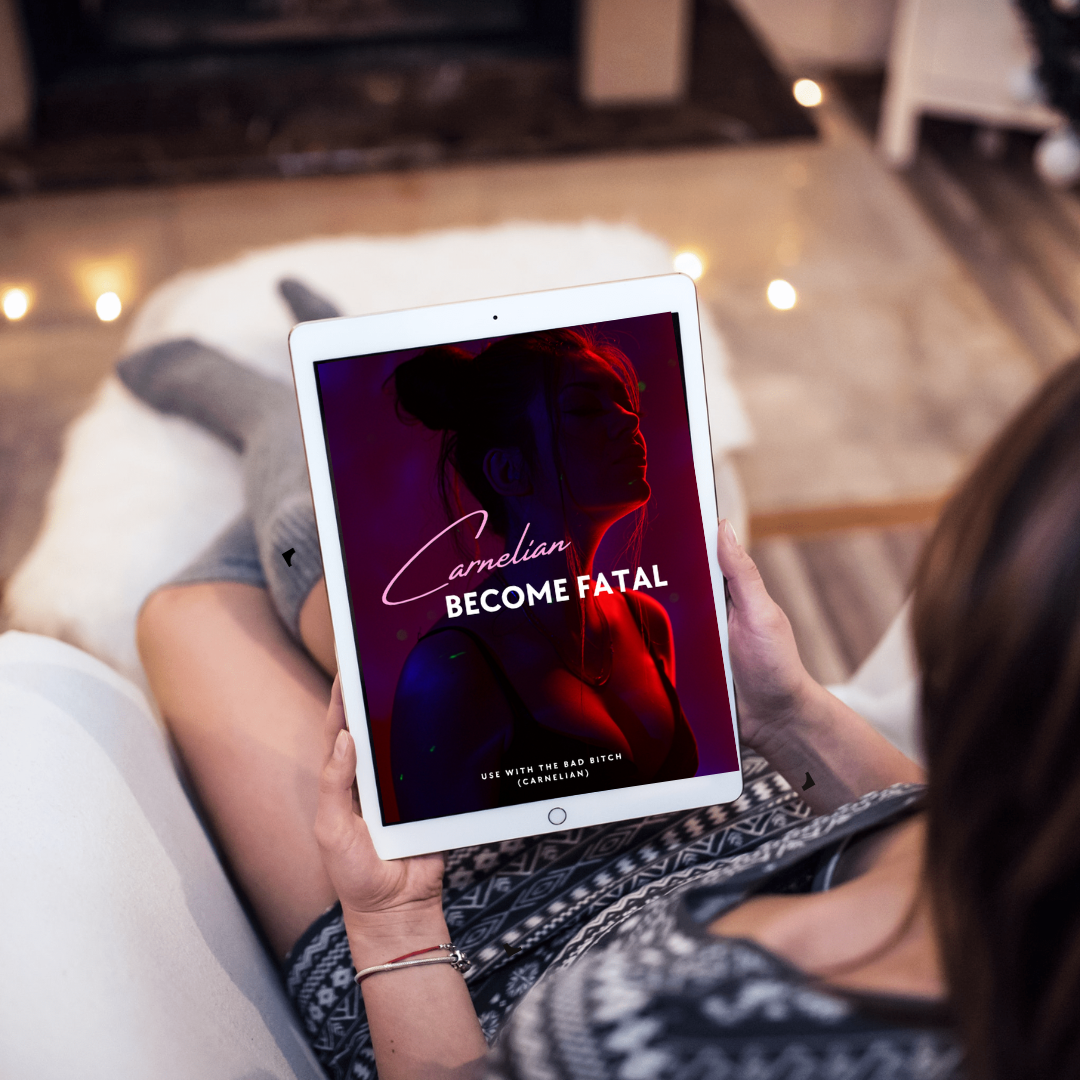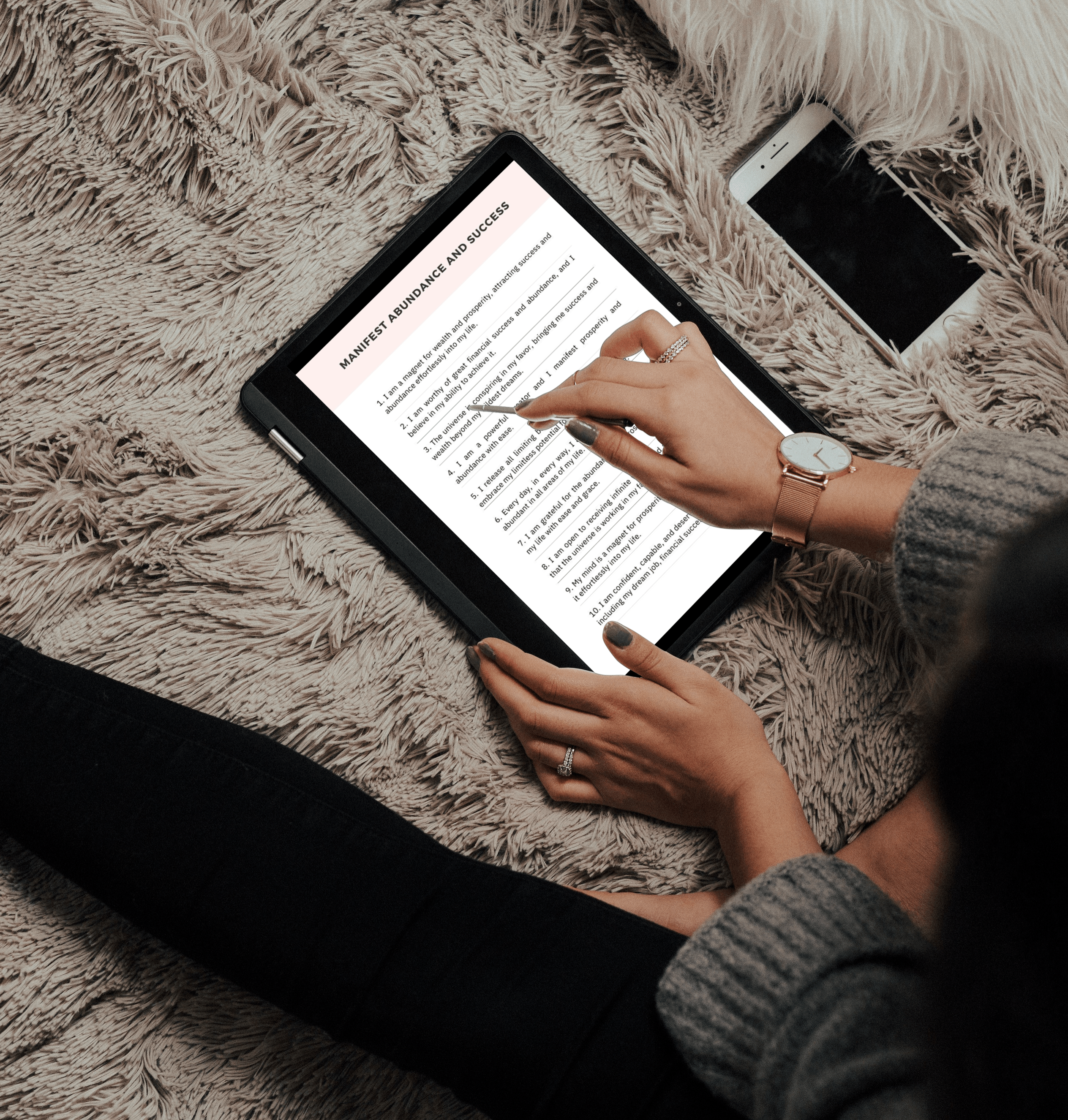 The Ultimate Guide to Manifestation (Ebook)
Partnership with Harvard-trained psychologist Kim Maldese, author of "Become Fatal"
Level up your manifestation game! 💖 This Ebook contains affirmations to use with each crystal you purchase from our store. You will find affirmations for becoming fatal, attracting soulmates, stop overthinking, getting rid of toxic energies, manifest wealth, heal past traumas, get a better s*x life ✨ Use your desired affirmation daily while holding your crystal.
WHAT'S INSIDE ?
After an introduction and User Guide, you'll find how to :
Heal a past trauma (10 affirmations)
Stop overthinking (10 affirmations)
Manifest deep friendships  (20 affirmations)
Manifest wealth & success (30 affirmations)
Change the way people see you (30 affirmations)
Get rid of toxic people (20 affirmations)
Improve your well being & be happy (30 affirmations)
Develop your self love & attract your soulmate (40 affirmations)
Become fatal (60 affirmations)
Manifest your best S*X life (9 affirmations) - 18+ ONLY
HOW WILL I RECEIVE IT ?
After your purchase, you will receive an email to download the ebook in PDF. You can either keep it on your phone, your tablet, or print it.
WHY DO AFFIRMATIONS WORK SO WELL ?
Affirmations are powerful because they work at the subconscious level of the mind. By repeatedly focusing on positive affirmations, we can gradually replace limiting beliefs and negative self-talk with positive, empowering thoughts. 
Affirmations help to activate the brain's reward centers, triggering the release of feel-good neurotransmitters like dopamine, which can help to reinforce positive habits and behaviors. This positive feedback loop can lead to lasting changes in our thought patterns and behaviors, allowing us to achieve our goals and realize our full potential.
WHY PAIRING THEM WITH CRYSTALS ?
Each crystal has its own unique energy signature, and by pairing a crystal with an affirmation that resonates with its energy, you can create a powerful synergy that can help to deepen your connection to the affirmation and enhance its effects.
Program your crystal
✨ All our crystals work with intentions.
It's really important that you follow the instructions in the guide you will receive in your package 💜
Learn more
What babes say about The Boss B*tch 💰